By Deborah J. Hodges
There is a robust section of the ABA Solo and Small Firm Resource Center website called Practice Management that is truly a gift that keeps giving. Yes, we have come to love it and it is a "go-to toolbox" for just about everything–well almost everything. It doesn't deliver chocolate chip cookies; however, it is calorie-free.The Practice Management section of the "toolbox" has advice, examples, tools, and resources legal professionals need to successfully manage a law practice. There are 14 sections in this toolbox: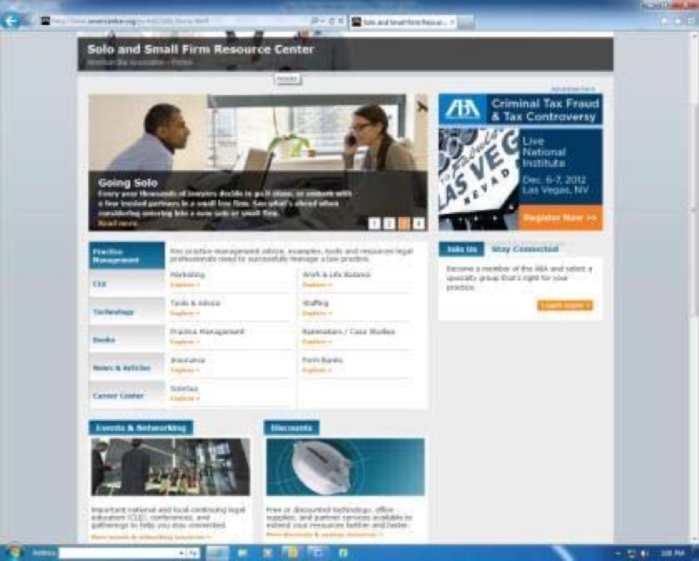 Practice Management
Continuing Legal Education (CLE) T echnology
Books
News and Articles
Career Center
Marketing
Tools and Advice
Insurance
SoloSezTM
Work & Life Balance
Staffing
Rainmakers/Case Studies
Form Banks
An added gift for you: Here are 20 tech tools that really can help. Some tools are free or offer special pricing for small businesses. These tools will help lawyers and law firms become more productive marketers, collaborate on and track initiatives, capture content for websites and presentations, garner media exposure, and more.
Have fun and bookmark this page: make it easy to tune-up your law practice. Twenty Tech Tips
1. Avast (www.avast.com/en-us/index) is an antivirus software that provides reliable protection
Buzzword (www.adobe.com/acom/buzzword) is a must-have if collaborating on documents is a key part of your work life. Your document resides on the web as a single file that can be shared by multiple collaborators, with changes and comments viewed in real time.
Carbonite (www.carbonite.com) is a great service for backing up your files automatically and takes the worry out of losing files—inexpensive plans available for small business.
American Bar Association―GPSolo eReport October 2012
Co-op (http://coopapp.com) makes it a snap to stay connected with your coworkers without disrupting them. Use it to post updates, ask questions, share links, track time, and share daily agendas.
CyberAlert (www.cyberalert.com) offers up a comprehensive list of free and low-cost press release distribution services compiled from various sources.
Doodle (www.doodle.com) is an easy scheduling software program, free of charge and without registration, that allows you create, poll, and confirm responses for an event, call, etc.
Evernote (www.evernote.com) is a memory tool that allows you to make "note" of anything you want using your desktop, the web, or your phone and its camera, and easily retrieve it later.
FreeConferenceCall (www.freeconferencecall.com) allows you to record phone meetings, consultations, and teleseminars—and turn them into easily downloadable audio files.
GatherGrid (http://gathergrid.com) is your go-to tool for scheduling a meeting among multiple parties—or maybe that small group seminar you're planning for your best referral sources.
Google Alerts (www.google.com/alerts) is invaluable for tracking stories about clients and prospects, their industries, your competitors, your own firm, and much more—and it's a breeze to use.
Google Reader (www.google.com/accounts/ServiceLogin?hl= en&nui=1&service=reader& continue=http%3A%2F%2F www.google.com%2Freader) allows users to subscribe to their favorite websites so that new or updated content lands in their email in-boxes the moment it's posted. You can organize the content by subject matter and choose to share items with a list of contacts, as well as add your own notes to your shared items.
Help a Reporter Out (http://www.helpareporter.com) is a mailing list—but don't let an old- fashioned connotation prevent you from joining one of the most helpful free PR resources there is. Sign up and every day up to three emails will land in your in-box, each containing 15 to 30 queries from journalists eager to connect with suitable sources.
Jing (www.jingproject.com) allows you to capture any image on your screen; mark it up using a basic text box, highlighter, and a few other tools; and zap the results to others.
Live Mesh (www.mesh.com) enables you to synchronize files across all your devices and access the files from any of them.
American Bar Association―GPSolo eReport October 2012
PBworks (http://pbworks.com; formerly called PBwiki) provides on-demand collaboration for managing projects and sharing and storing documents. A wiki is an extranet without the expense of an IT department.
PDF Download (www.pdfdownload.org) converts any web page into a PDF file—an indispensable tool for creating press clips of your online coverage.
Remember the Milk (www.rememberthemilk.com) is a web-based app that lets you create as many to-do lists as you need; share, send, and publish tasks and lists with your contacts; and get reminders via email, SMS, and instant messenger.
SendThisFile (http://www.sendthisfile.com) provides a mechanism to send large files and easy to upload-no size limitation—pics, docs, and more.
Zamzar (www.zamzar.com) converts images, documents, music, and videos from one format to another. It stores all converted files online for 24 hours.
Zoho CRM (http://crm.zoho.com/crm/login.sas) is an on-demand customer relationship management system, and it costs nothing for up to three users. You can import contacts from a CSV file, and from there you can maintain as simple or complex a program as your situation demands, from generating CRM and marketing reports and forecasts to utilizing dozens of other related tools.
American Bar Association―GPSolo eReport October 2012